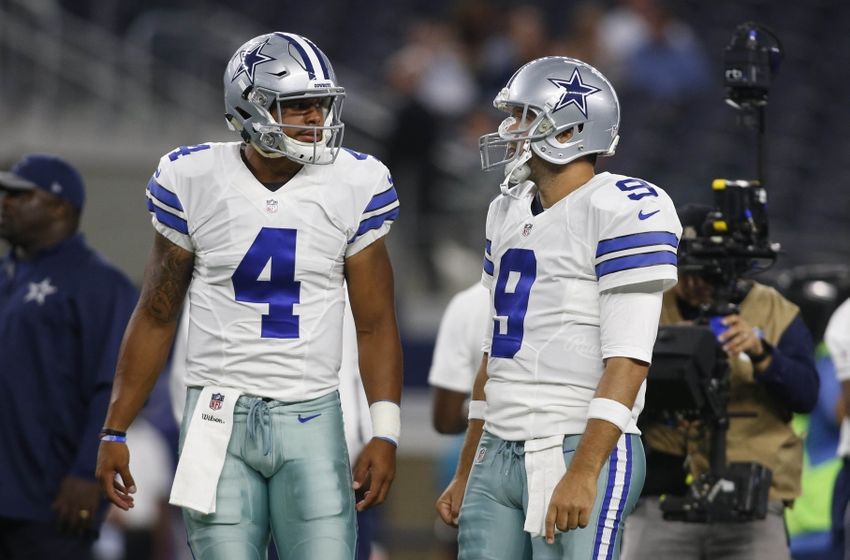 Nothing is more exciting (and a sigh of relief) than when an NFL organization discovers a young, capable quarterback when their current superstar quarterback is in the twilight of his career.  Think Packers, Patriots, Colts, Browns (kidding).  We've known for awhile now the Dallas Cowboys have needed to find and groom Tony Romo's eventual heir.  It would seem as if GM Jerry has accomplished the feat when they selected Mississippi State signal caller, Dak Prescott.
With Romo suffering a back injury, the rookie has started the first two games of the season splitting wins and losses for a 1-1 record. Dak has performed well in the opening weeks, averaging 260 yards passing per game and, more importantly, hasn't turned the football over.  As a matter of fact, Prescott broke Warren Moon's record of most pass attempts by a rookie quarterback without an interception (Moon 71, Prescott 75).  So, naturally, with the youthful quarterback playing well and Romo now only a quarter because he has no back left, the question has come up asking if Dak should just take the reins permanently and make Romo the best backup quarterback in the NFL.  Let's break down, shall we?
Pro-Romo
Everyone has said this is Tony's team, from Jerry, Jason, to Dak himself.  He's not just a great quarterback, but he's phenomenal in the redzone where Prescott has struggled.  Prescott has had several opportunities, yet has not tossed a touchdown pass in the first two games.  An outstanding NY Giants team loaded the  box to stop the run and forced Dak to beat them in the redzone and it never happened, leaving the Cowboys kicking field goals.  In 2014, Romo had a 109.2 quarterback rating with 21 touchdowns to only one interception and a 65 completion rating.  In the small sample size we have for Dak, he's completing only 45% and has a 52.5 QBR in the redzone.  Again, small sample size, but scoring touchdowns rather than field goals is needed in order to win in the NFL.  Not to mention, Romo needs to have success late in the season, not just in December, but in January as well.  And let us  not forget, Tony Romo is the single greatest 4th quarter gunslinger of all time.  Yes, of all time.  He has 24 comeback wins in the final frame to go along with a 102.9 rating, the best ever.  You're going to need the late-game expertise come November and December.  For the sake of experience, late game playmaking, and legacy let Tony finish what he started.
Pro-Dak
The decision to go back to Romo or stay with Dak is really already settled.  The Cowboys will turn back to Romo when he's healthy, however we say last year when Cowboys personnel sent Romo back out on the field well before he was actually ready.  One crunch and he was back in street clothes on the sideline.  Part of rushing him back was the total and utter incompetence of backups Matt Cassel and Brandon Weeden.  With Dak playing well it fogs up exactly how long the Cowboys can wait until they put Tony back on the field.  If the Cowboys start 3-1 and Romo is in the same condition he was in a season ago when he returned from injury, hopefully the guys in charge of personnel will pump the breaks on Romo and give him the proper time to heal.  Even then, can Romo hold up when "healthy?"  Can he take a hit?  There's no question the nature of the game could ultimately settle this argument.  With that being such a realistic risk for Romo and his overall well being why not go ahead and put Prescott behind the wheel of the offense for good?  He's shown he can handle the pressure and is fully capable of leading drives down the field.  Tony has unfinished business and everyone who supports the Dallas Cowboys should support the idea of Romo being the guy who leads this team to their first super bowl in more than 20 years, however, in a decade's worth of work, what evidence do we have in the post season that says he can make that happen?  Maybe it's just time to begin a new era.  Perhaps it comes via Dak winning the job, or possibly happens when Romo absorbs his final blow from an opposing defender.   For the sake of turning the page and number 9's overall well being as a person, let Dak take over and lead Cowboy Nation into the future.